About
Sneed's Feed & Seed (Formerly Chuck's) is a joke from the 90's animated television series The Simpsons . The questionable validity of the punchline and confusing nature of the joke's structure has turned it into a tool for trolling.
Origin
The scene comes from the 11th Season of The Simpsons titled 'E-I-E-I-(Annoyed Grunt),' written by Ian Maxtone-Graham. In the scene, Homer parks outside the titular farming supply store "Sneed's Feed & Seed" (underneath in parenthesis reads "Formerly Chuck's") before being berated by two men. Initially airing on the 7th of November, 1999, the first internet reference to Sneed's Feed & Seed comes from an episode capsule text document written on the 27th of March, 2000, by author Benjamin Robinson.
Benjamin Robinson details the hidden innuendo in the title by pointing out the correlation of Sneed, feed and seed all ending with the suffix "-eed," meaning Chuck's former ownership would imply the "-uck" suffix instead. Leading to the store being "Chuck's Fuck & Suck" if following the initial starting letters.
Spread
Earliest archived discussion of Sneed's Feed & Seed comes from a thread created by The Straight Dope user The Great Zamboni on the 17th of April, 2003.
4chan Revival
On the 12th of June, 2012 an Anonymous user posted a picture of the Sneed's Feed & Seed sign to /co/. This is the oldest post referencing the meme that has been captured by the archiving website DesuArchive.
Examples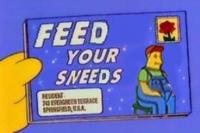 Search Interest
External References