Ethereum (ETH) is facing a do or die situation. The daily chart for Ethereum Dominance (ETH.D) shows that either we might see Ethereum (ETH) fight for dominance to begin a new uptrend or it will fail which will see Bitcoin (BTC) rising against Ethereum (ETH) short term and then eventually both will decline hard with ETH/USD declining even harder. So, this is the situation that Ethereum (ETH) currently in and this is what makes it so important for Ethereum dominance (ETH.D) to break that 38.2% fib retracement level. Until and unless we see a break past the 38.2%, Ethereum dominance remains at risk of seeing a bearish EMA crossover with the 21 Day EMA falling below the 50 day EMA.

Investors are more divided at this point than they have been at most other points in the ongoing cycle. The reason why that is the case is because those that are bullish are expecting a break towards the upside here for Ethereum (ETH) to begin a new uptrend. However, those that are bearish expect a break to the downside for Ethereum (ETH) and other altcoins to continue their downtrend. I still don't think most altcoins including Ethereum (ETH) have bottomed. I think there is a lot of room for the price to decline just yet and betting on the price going up is going to be very risky business until and unless we have a clear bullish break past the 38.2% fib retracement level in Ethereum dominance.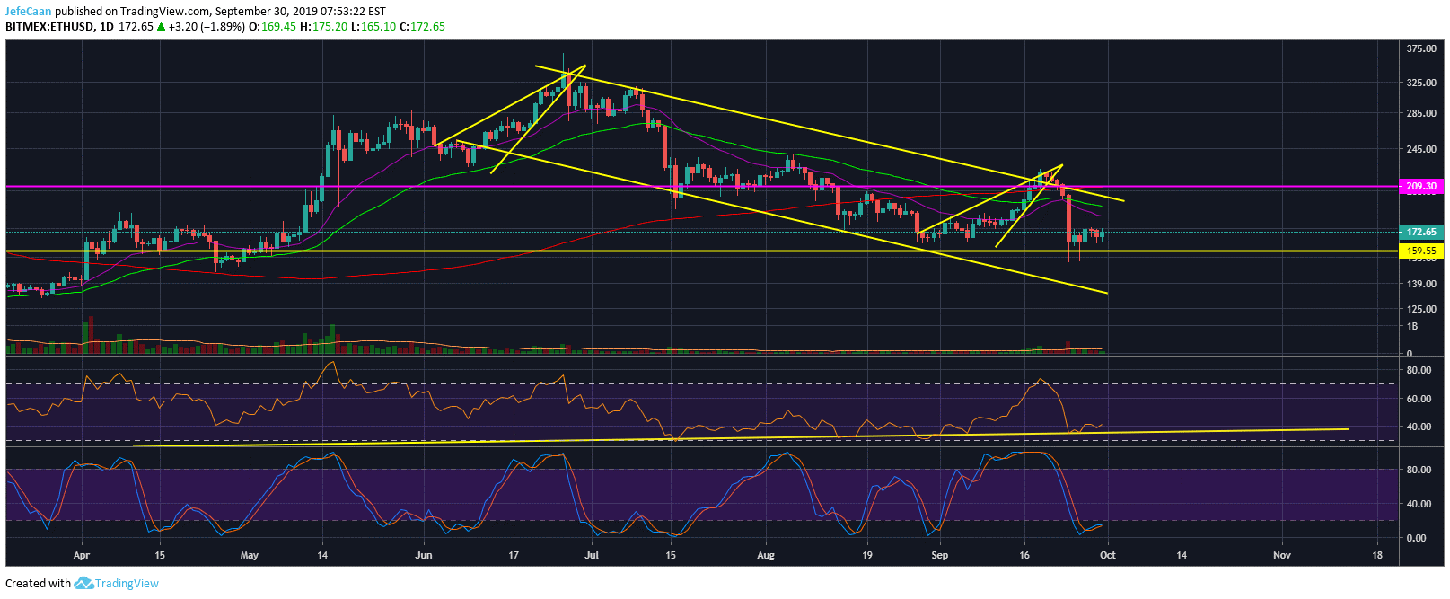 When the downtrend in ETH/USD began after the recent cash, we did discuss the possibility of a retest of the top of the descending channel because it happened last time as well. Also, I think this is important to see for confirmation of our bearish bias. We have to see the price face a rejection at the descending channel to know for sure that we are going to see further downside within this descending channel. It is pertinent to note that a long term trend line support on the RSI on the daily chart for ETH/USD has yet to be breached.
Ethereum (ETH) like other altcoins dances to the tunes of Bitcoin (BTC) but we have seen periods in the trading history of the market where altcoins have made their own moves and Bitcoin (BTC) has traded sideways. If Ethereum dominance breaks resistance, we are likely to see a similar situation where altcoins would rally while Ethereum trades sideways. In my opinion, for the price to begin another downtrend, we have to see more calls for cryptocurrencies going to new all-time highs. So far we have not seen that happen and the whales and market makers have little incentive to help the price decline before more bulls are trapped in.